Beer Belly
532 S. Western Avenue
Los Angeles, CA 90020
213-387-2337
Beer Belly LA tumblr
No one can deny that Koreatown is a hub of good eats and drinks, a plethora of karaoke joints sleek and grimy, and pretty damn decent apartments in a central location at reasonable rents. I spent a few fantastic years as a singleton living at 5th and Catalina. I was happily located between Hollywood and Silverlake enjoying the occasional Korean BBQ and soondubu while bouncing back and forth between hipster bars to the west and musical venues to the east. Those were some golden years right there.
It was not without some trepidation that I would pop into ChoSun Galbi with a date, the only white faces in the joint. And I don't ever remember enjoying soondubu on a cold rainy day without my Korean speaking girlfriend as my guide. Nowadays, I feel less bashful dropping in wherever in Ktown for whatever whenever, the more authentically ethnic feeling the better. And now, I love the way brand new Beer Belly offers something of the old school Koreatown of fifteen years ago mixed with something previously unseen in Ktown. Delicious bulgogi, an ever so slightly esoteric location, a fresh menu and a beer lover's beverage program will make Beer Belly a destination gastropub from any zip code.
Quartet of artisanal brews from very local brewers. Owner Jim told me on Memorial Day Eve that he searches out beers brewed as locally as Los Angeles and Orange County. The presentation of beer in both the glasses and behind the bar at the taps is sleek and modern, perfectly in keeping with the lustrous wooden walls and shiny metal bar made by a local craftsman in Silverlake. Newly local blogger Mark of
iFlipForFood
was out to play with a mate knocking back suds and chatting with D.
Lucky number 9!
First out, grilled asparagus with parmesan cheese shavings.
Simply genius, fried artichoke hearts with a lemon herb aioli. A really nice alternative to potato fries when swilling beer or sipping fizz. I almost forgot to mention, Jim thoughtfully realized that a percentage of his guests aren't beer drinkers. In keeping with the sudsy beer theme, he serves for non-beer drinkers several kinds of sparkling wine by the glass. I sipped at a few glasses of
German Gilabert Cava,
happily prepping my taste buds for all the cava I will be drinking when I am in Barcelona later this month.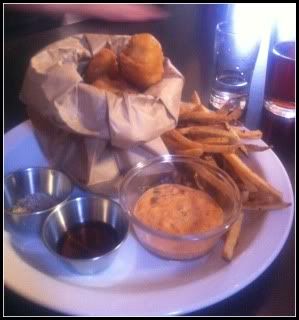 D and I both did backflips for the catfish and chips with kimchee tartare sauce, sea salt and malt vinegar. I love catfish to begin with and the follow through on this dish is a very light batter made tasty with a wheat beer, of course.
When in Rome one wears a toga and when in Koreatown one eats bulgogi while drinking, if at all possible. We tried both short ribs on and off the bone; both were delicious. Keep track of the daily specials at Beer Belly, the BBQ is only on the menu until sold out!
The above tweet was twittered the next morning....since Beer Belly doesn't serve soju, I admit to some late night #urbanhiking, but plead the fifth for details beyond.