Kristine is a small business owner working and employing people in the construction industry. I know from personal experience she loves cooking, dining out, eating other people's food and sharing her own. She always has 20 questions (or more) about everyone else's food experiences.
Hobby:
Reading (does this count as a hobby?) & I'm starting to get into photography.


image courtesy of

Now Public


Last meal you ate:
Just got back from lunch and had half a rack of baby back ribs with honey BBQ sauce, corn casserole, cole slaw, and a biscuit. NOM!


courtesy of nommm blog


Popsicle flavor/ice cream treat preference:

Popsicle flavor = A good old skool Big Stick (cherry & pineapple)Ice-Cream = Chocolate & Hazelnut Gelato
(Villa Dolce is a good one that I can get at a regular grocery store.)


courtesy of Go Pug Yourself


Obama is coming to dinner! What would you serve for a 5 course meal?
Probably something simple and hearty. I am learning to be a better cook but one thing but when I entertain I usually stick to my tried-and-true menu.1st Course: A simple salad. Probably with some bleu cheese, dried cranberries/cherries in a balsamic vinaigrette
2nd Course: Baked/broiled shrimp dish I make with olives, olive oil, salt & pepper. The oil is great for dipping bread into, as well.
3rd Course: Filet Mignon with sauteed green beans or asparagus, I make a good mac & cheese with caramelized shallots and goat cheese, too.
4th Course: (Damn, I don't think I've ever cooked a five course menu at home. It's always been 3 or buffet-style). Hmmm ... If I'm trying to be fancy I guess I could serve a sorbet of some kind. Maybe something a little tart like lilikoi/passionfruit.
5th Course: a fig tart with a cheeseplate! :)
image courtesy of Martha Stewart

Desert island 3:
You mean a 3 course meal on a desert island? Are we doing this Les Stroud-style? ;)1st: Some kind of ceviche with fresh fish, shrimp, citrus.
2nd: Some kind of grilled/broiled fish with a simple rice and local veggies
3rd: A simple platter of fresh fruit from around the Island
Cooking mishap?
I focked up on my first Thanksgiving turkey (but who doesn't) ... it's like a rite of passage in the kitchen, right? LOL
image courtesy of Bay Area Bites

Ethnic/culinary heritage? Do you cook anything traditional to this heritage?
100% Korean. I have tried my hand at Korean-inspired meals but I leave the true Korean food to my mom.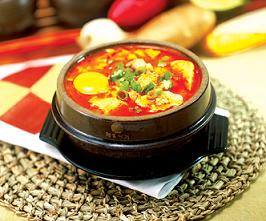 image courtesy of kaman's cep 416 blog

How did you learn to cook?
Come to think of it, I never really spent too much time in the kitchen with my mom. I recall stirring the pot or cutting some veggies when she asked but we never bonded too much in to the kitchen. I've learned (and am still learning) to cook on my own. Actually, when the DH and I first moved into together (we were 21), I went through a crazed Food Network phase and got a lot of inspiration from all the cooking shows. My fave FN personalities are Giada & Tyler Florence.


One thing you will never eat.
Shark. As much as I admire a lot of aspects of Japanese culture I think it's fucked up how little they regard the shark.
image courtesy of Shark Divers Blog